Linda M. Weinfield, DDS, MS
Linda M. Weinfield, DDS, MS, is a Chicago native and a third-generation dentist. After graduating from Southern Methodist University in Texas, she returned to Chicago to attend Loyola Dental School. Dr. Weinfield graduated with a Doctor of Dental Surgery degree, a Master of Science degree in oral biology, and a periodontics specialty license. She has spent the last 22 years helping people achieve healthy teeth and stunning smiles. Dr. Weinfield is a past president of the American Board of Oral lmplantology (ABOI), the only testing organization that certifies doctors as diplomates.
Since 1991, she has spent time as an examiner for the ABOI, certifying doctors to perform dental implant surgery and dental reconstruction. For nine years, Dr. Weinfield was an assistant clinical professor at Loyola Dental School and continues to lecture yearly. For six years she examined for the American Academy of Implant Dentistry and was awarded the Paul Johnson Service Award in 2019. She has also been mentioned in Parade Magazine, Prevention Magazine, the Chicago Sun-Times and the Chicago Tribune.
Dr. Weinfield enjoys making her patients look and feel beautiful, and takes pride in providing friendly, professional care to each person she treats. Because Dr. Weinfield is known for delivering incredible results, patients trust her and bring their families to her year after year.
Professional Memberships
Dr. Weinfield is a member of the following professional organizations:
American Board of Oral lmplantology – diplomate, past president/member of the board of directors
American Academy of Implant Dentistry – honored fellow/fellow, past president of the Central District and a former examiner on the Admissions and Credentials Board where she held all officer positions
International Congress of Oral Implantologists – Diplomate and Fellow
American Academy of Osseointegration
American Dental Association
American Academy of Periodontology
Illinois Dental Society
Chicago Dental Society
To meet with Dr. Weinfield or to learn more about our cosmetic and implant dentist in Oak Lawn, Illinois, please contact our practice today.
Linas J. Bartuska, DDS
Dr. Linas Bartustka has been practicing dentistry since 1992 and brings an incredible level of experience to every patient he serves. He originally graduated with honors from the University of Illinois in 1984, receiving a Bachelor of Science in dentistry. He continued his education there and received his Doctor of Dental Surgery degree in 1986, as well as being elected into the Omicron Kappa Upsilon national dental honor society for his academic and clinical achievements. Dr. Bartuska provides superb quality dentistry in combination with his compassionate patient care, and he provides prosthodontic, cosmetic and restorative treatments. He also speaks fluent Lithuanian to best serve our community!
Dr. Bartuska has been married for over 25 years, and in his free time, he enjoys flower gardening, listening to music and watching sports.
Philip W. Cannizzaro, DDS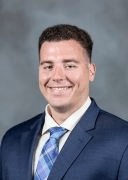 Dr. Philip W. Cannizzaro grew up in the northwest suburbs of Chicago and pursued undergraduate collegiate studies at the University of Illinois in Urbana-Champaign, majoring in molecular and cellular biology and minoring in chemistry. He graduated in 2016 with the following accolades: Highest Research Distinction, Specialization Certificate in Microbiology, Honorary James Scholar, and Magna Cum Laude. Dr. Phil also committed time to the community as a voluntary clinical and administrative intern at a federally qualified health center in Champaign, Illinois, as well as in leadership roles for the Silver Wings Service Organization as a Silver Wings National Conclave Co-Commander and Stephen R. Nagel Chapter President.
While attending the University of Illinois at Chicago for his dental education, Dr. Phil joined the American Student Dental Association and served in the following positions: UIC Chapter President, District 7 Leadership Development Chair, District 7 Chapter Outreach Representative, and D1 Class of 2020 Representative. He also participated in the American Dental Education Association as a peer mentor in endodontics and as a class representative (D1, D2). Finding a passion in the field of endodontics, Dr. Phil was accepted into the Endodontics Enhanced Specialization Track and also assisted in teaching pre-clinical endodontics during his fourth year. Dr. Phil graduated dental school in 2020 with the following achievements: American Association of Endodontics Student Achievement Award, Omicron Kappa Upsilon (OKU) Sigma Chapter Inductee, OKU Sigma Chapter William S. Kramer Award of Excellence, Dr. Harry Saxon Scholarship, Samuel J. Cascio Scholarship (2X), and Amy J. Cummins Scholarship.
Dr. Phil enjoys working at the Dental Building to provide professional care for patients' pain relief and improved quality of life.
Amit Kalra, DDS
Dr. Amit Kalra was born and raised in New Delhi, India. He completed general dentistry training in 2010 and endodontics training in 2014. After getting married in 2016, Dr. Kalra moved to the United States and received advanced clinical training in restorative dentistry at UCLA School of Dentistry in 2020. In his free time, Dr. Kalra loves to travel, cook and spend time with his wife, Shveta, and 11-month-old son, Vaayu.
Meet Our Team
Our team at the office of Linda M. Weinfield, DDS, MS is committed to providing each patient we meet with excellent care. We work closely as a team and with you to ensure that you understand your oral health and your treatment options so that you can make the decisions that are best for you. We invite you to give us a call at 708-422-0004 to schedule your appointment with our periodontist in Oak Lawn, Illinois, and learn more!
Check back soon to meet our amazing team!